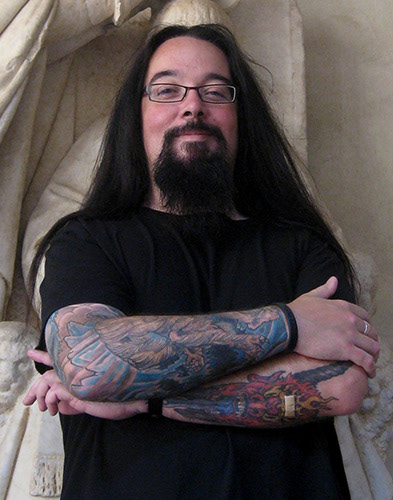 I am fortunate to have enjoyed a 20-plus year career making both commercial and fine art. By day, I am a designer and illustrator, serving clients in the music and entertainment industries. The business I founded, XIII Design, LLC, is in its 16th year. I work both digitally and traditionally, increasingly preferring the latter.
When not working for clients, I create
drawings and paintings
that reflect my truest artistic loves, combining elements of surrealism, nature and the absurd. I usually work in pen & ink, watercolor and oils. My influences include Albrecht Dürer, Hieronymus Bosch, Monty Python and Marcel Duchamp. The underlying aim of my art is generally humor, via a sort of friendly mysteriousness.
Portland has been very good to me! I am deeply grateful to live in such an artistically diverse and vibrant city. Since moving here in 2015, I have embraced the sticker art format with wild abandon, and have created more than forty new pieces of art. I give them away to clients, restaurant staff, new friends and confused strangers. 
The stickers, inspired by the street art of Portland, have served as calling cards and conversation starters. I've been honored to see them placed in public view in such places as Division Wines, Rudy's Barber Shop, Stammtisch, Danwei Canting, Chicken and Guns, Afuri and Sapphire Lounge. 
I would love to create a mural in the style of my stickers, possibly with Oregon flora and fauna as the theme. It would also be fun to do something in alignment with the Unipiper's recently announced
Weird Portland United
non-profit, as I believe he has identified a unique and vital aspect of our Portland community. Street and public art are more important than ever in our society, as they address an audience that might not otherwise see art. I am convinced that culture belongs to everyone, not just to those who can afford it.
I live with the love of my life, Allison, and my cat, Leopold. Aside from art, my interests include ancient history, travel, cooking and The Sisters of Mercy.
--Tim Butler
MFA, Printmaking, Academy of Art College, 1994
BFA, Massachusetts College of Art, Painting, 1990