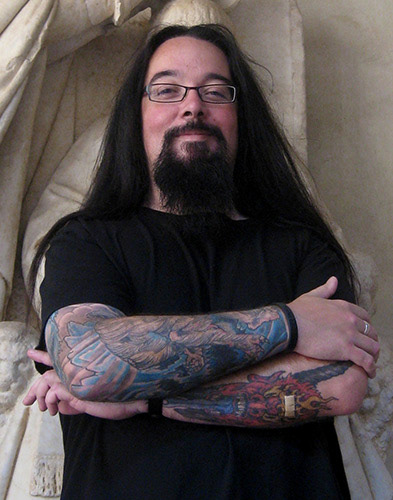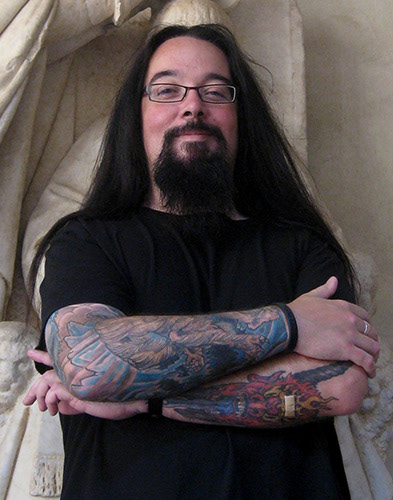 I am fortunate to have had a 20-year career making both commercial and fine art. By day, I am a graphic designer and illustrator, serving clients in the music and entertainment industries. The business I founded, XIII Design, LLC, is now in its 15th year. I work both digitally and traditionally.
When not working for clients, I create drawings and paintings that reflect my truest artistic loves, combining elements of the surreal, the macabre, and the absurd. I usually work in pen & ink and oils. My influences include Hieronymous Bosch, Albrecht Dürer, Monty Python and Marcel Duchamp. The underlying aim of my art is generally humor, but I also hope to convey wonder via a sort of friendly mysteriousness.
I have also created two merchandise lines featuring my work, a dinosaur-themed line called
Skelezoic
, launched in 2012 and a line of weird and kooky shirts called
XIII•PDX
(formerly XIII•SF), launched in 2007. Stickers of many of the images in the Street Art section are available
here
.
I am a resident of Portland and am deeply grateful and happy to live in such an artistically diverse and vibrant city. I have been particularly inspired by the street and sticker art here, and I would love to create a mural, particularly something in the style of the pen and ink drawings I've been making lately. In the meantime, I leave my stickers as calling cards and thank you's for hard-working restaurant servers, bartenders and other new friends in the Portland area.  I feel that street and public art are more important than ever in our society, as they address an audience that might not otherwise see or contemplate visual art at all.
I live with the love of my life, Allison, and my friendly black kitten, Leopold. Aside from art, my interests include ancient history, travel, cooking and The Sisters of Mercy.
--Tim Butler
MFA, Printmaking, Academy of Art College, 1994
BFA, Massachusetts College of Art, Painting, 1990